UPCOMING EVENT
LUXEMBURG PAVILLON@EXPO DUBAI 4-6 NOVEMBER 2021
Art is more than what you see in a gallery
Exquisitely handcrafted custom handbags by Artichocworldwide manufactured in Luxemburg for the woman of today are shown at the Dubai Expo 2020. Your style is as individual as you are. Of course you don't want to finish off your outfit with just any handbag, pimp it up with a piece of art called Chrysalis. Our bag collection is a piece of art, browse and find the perfect Chrysalis for every occasion. We are pleased to welcome you at the Luxembourg Pavillon @ Expo Dubai where the unique, one of a kind bags are exhibited.
UPCOMING EVENT
WORLD EXHIBITION DUBAI NOVEMBER 2021
« Roude Léiw sou gesi mir Lëtzebuerg » goes Dubai
We are proud to announce that the project "Roude Léiw sou gesi mir Lëtzebuerg" will be shown at the world exhibition Dubai 2021.
The fantastic artworks shown from 19-25.06 2019 in Luxembourg city center are now transformed into Chrysalis art bags and will glam during the "Made in Luxembourg" week in Dubai.
WE CAN'T WAIT TO SEE YOU!
Blown away by the range of creative expression the unique and exclusive art bags will be the highlight of our upcoming exhibition.
We are inviting you to join this live event which will take place in LUXEMBOURG CITY CENTER
When? We will keep you posted!
UPCOMING EVENT 19-25 .06.2019
« Roude Léiw sou gesi mir Lëtzebuerg »
An art event and art contest with 179 students, " preparing" the the town's landmark Roude Léiw for the world exhibition Dubai 2020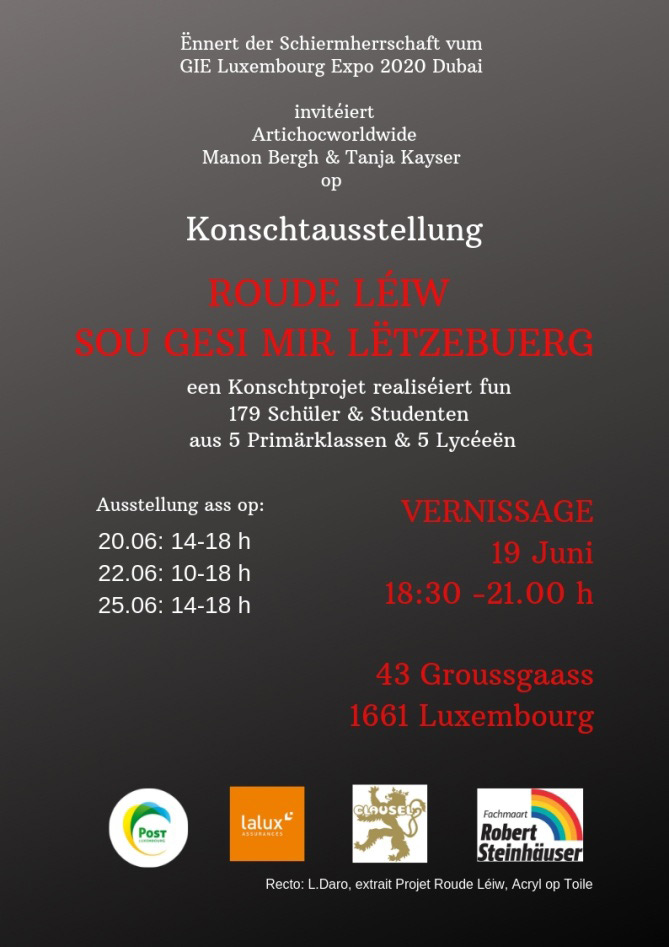 UPCOMING EVENT 01.05.2019
UPCOMING EVENT 20.04.2019
UPCOMING EVENT FUELOBOX III
Artichocworldwide @Springbreak 2019
Artichoc is pleased to announce to be part of the Springbreak 2019.
We will be present at Luxexpo the Box on Saturday 16 of march in collaboration with the Chambre de Commerce Luxembourg.
Artichoc will show it's unique , handmade, one of a kind MADE IN LUXEMBURG art bag collection Chrysalis.
Looking forward seeing you. We will be present to show you our new summer collection 2019.
Artichocworldwide goes Rotondes: " lët'z go local " 29 & 30 September 2018
Artichocworldwide will be present at the lët'z go local exhibition at the Rotondes
2 Place des Rotondes, L-2448 Luxembourg. Awarded with the label " made in Luxembourg" several months ago from the Chambre de Commerce , Artichocworldwide is proud to show its bags manufactured in Luxembourg.
AND!!!!! Don't miss the opportunity, The winter collection "Noboya" will be launched!
Artichocworldwide at the pop up gallery d'Epicerie from 11 till 18 July 2018
In collaboration with the artists Menny Olinger, Rafael Springer , Marie-France Philipps Artichocworldwide will be present with the artist Tanja Kayser at the gallery d'Epicerie showing paintings and bags from the artist.
Vernissage will be Wednesday11th of July at 6pm Avenue du 10 Septembre L-2550 Luxembourg. Looking forward seeing you.
Artichocworldwide at the international dressage competition CDI**** Leudelange
Where art meets elegant horses, from 03 till 08 of July 2018. We will exhibit American streetart at the VIP restaurant and show you our latest generation of the "Chrysalis" and "First Rule No Rule" collection.
Artichocworldwide present at the golf tournament " Golf Château de Preisch".
Artichocworldwide will be present at the Charity golf competition to the benefit of Europa Donna 14th of July with the summer bag collection" Chrysalis". We invite you to spend a cozy Saturday in a stunning environment. Discover our "Chrysalis" bag created in collaboration with artist Laura da Silva.
Artichocworldwide at the international show jumping CSI *** Réiser Pärdsdeeg
Don't miss this unique opportunity and visit us from the 06 – 10th of June in Roeser. ARTichoc is very proud to announce their partnership with DORMA HOME Luxemburg. Come and visit our stand on 'Réiser Pärdsdeeg' from 6 till 10 of June .
Streetart paintings&bags in combination with urban scandinavian furniture meets top sport!
See you on spot!
ARTichocWorldwide goes NEW YORK
ArtichocWorldwide is pleased to announce it's participation at the Armony Artweeks with the Art Box Project New York 1.0 at Stricoff Gallery 564W 25th Street New York. The Gallery is open from 10am – 6pm
The Armory Show is one of the art world's biggest international art fairs, rivaled only by Frieze New York and the anchor for the city's Armory Arts Week, during which some seven different art fairs set up shop in New York. The Armory Show's roots go back to 1995, a time when the market for contemporary art was at low ebb. In an effort to jump-start business, a group of Soho art show dealers—Colin de Land, Pat Hearn, Matthew Marks and Paul Morris—organized the Gramercy International Art Fair, named after its initial location at the Gramercy Park Hotel, where exhibitors showed their wares in the hotel's rooms. The idea took off, and in 1999, the event moved to the more spacious 69th Regiment Armory on Lexington Avenue. It was there that the legendary Armory Show of 1913 introduced modern art to America, and in homage to that watershed exhibit, the Gramercy International Art Fair renamed itself the Armory Show. The fair moved to the West Side Piers two years later, and in 2009 started a spin-off, The Armory Show-Modern, a section devoted to 20th century master artworks. Some 200 art galleries from 30 countries are taking part in this year's festivities. If you want a comprehensive look at the latest trends in contemporary art, a visit to the Armory Show is a must.
When is the Armory Show?
The Armory Show runs from March 8, 2018 to March 11, 2018.
Where is the Armory Show?
The Armory Show takes place at Piers 92 & 94 , 711 Twelfth Ave (W 55th St & the West Side Highway).
How do I get tickets to the Armory Show?
Tickets can be purchase on line at the Armory Show website or at the fair entrance.
What's the best way to get to the Armory Show?
Take the C, E to 50th St; M12bus to Twelfth Ave/W 54th St.
"Pimp up your naked wall"
ArtichocWorldwide is proud to launch its Pop Up Art Event in the Grand Duchy of Luxembourg at the Espace H2O at Oberkorn a former water reservoir built in 1912 and several years ago transformed in a stunning cultural place to be.
For ArtichocWorldwide the perfect platform to present spectacular and exceptional artists and designs.
For some of our artists Luxemburg will be their first exhibition in Europe.
"Pimp up your naked wall" is a body of work incorporating both, artists passion for strong social artworks, and the fast moving political turmoil surrounding us all in today's world.
The exhibition features a broad spectrum of works on canvas. All artists are showing previously unseen works as well as a few known classics.
ArtichocWorldwide has the great privilege to introduce you to stunning original handmade designs as well as one of a kind art from artists all over the world.
The trendsetting collection " Pimp your fashion" will be discurtained during our opening reception.
Opportunity for art lovers:
An original painting from famous Belgian Graffiti and Street Artist JOACHIM will be auctioned .The proceeds of the auction will be donated to Scooby in Valladolid, www.scooby medina.org